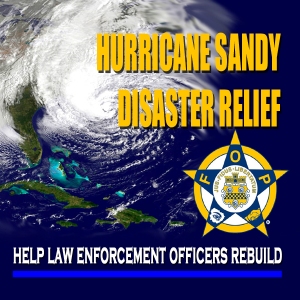 Residents in several states in the Northeast are experiencing enormous challenges as they pick up the pieces of the shattered lives and rebuild following the destructive forces of Hurricane Sandy.

Just as so many in the communities they serve, law enforcement officers are not only standing guard, many are also left homeless.

The magnitude of the destruction of Hurricane Sandy makes it impossible for local agencies to manage the recovery alone.

In this time of uncertainty and at a time when they need it most, the Fraternal Order of Police and its members continue to show their compassion and concern for their fellow officers.

The FOP Foundation came to the to the aid of officers following the tornadoes that struck Joplin, Mo. and Birmingham, Ala. last year.  We distributed more than $1 million to more than 2,000 members left homeless by Hurricane Katrina.

During all of these disasters, the FOP has strived to help members get their lives back in order, and to ensure that they receive the maximum benefit from the FOP Foundation. However, none of this would be possible were it not for generous assistance provided by our brothers and sisters nationwide.

Now, more than at any other time, it is so important to give to the FOP Foundation's Disaster Relief Fund. FOP members have constantly risen to the occasion and provided much needed funds to help our brothers and sisters affected by tragedy.

We need your help again. Please send your donations to the National FOP Foundation, 701 Marriott Dr., Nashville TN 37214, and keep our affected FOP members and the citizens affected by these tragic events in your thoughts and prayers. Every penny donated to the FOP Foundation Disaster Relief Fund will support officers recovering from Hurricane Sandy.

When you see the devastation of these weather disasters on your television screen, know this – but by the Grace of God, it is not your family's misery or your shattered home shown on that screen. If it were, find comfort that your brothers and sisters in blue will be there for you as well.
Visit www.fop.net for more details.


Please note on your check that the donation is for Hurricane Sandy relief.